Transfer Additive Injection Skid
Date: December 31, 2012
Location: Detroit, MI
This Lane Additive Pre-Fabricated Skid is a metering, blending and top truck load out skid. It is equipped with (4) active 8" header lines (84, 91 single filter, Eth, 91 double filter) and (4) spare 8" headers. Bullard Company built this skid according to a design furnished by our client – a major petroleum company.
Included:
(8) 8" A-53 GR Pipe headers
Thermal relief line
Skid frame: 30'6"L x 8'0" W x 10'0" H consisting of 6" x 6"x ¼" Tube Steel Frame
(8) 1" drain downs
(9) 4" control valves
(9) 4" butterfly valves w/ short lever
(6) Additive injector systems
1" additive piping headers
Lane 6 PLC I/O Enclosure Support Steel
(9) PD Meters
(7) Grated Steel Platforms
All steel plates, angles and channels A36 steel
All steel tubing ASTM A500 Grade B
All steel beams A992
Total Weight = 25,000 lbs.
Products Used
Process Skid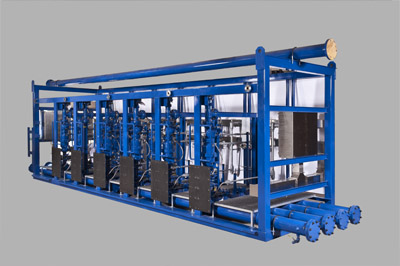 Bullard Company's process skids are fabricated by certified welders in accordance with AWS and ASME specifications.