Why Bullard?
PROBLEM SOLVERS...
At heart, we are designers, engineers and problem-solvers. Our work is manifested in our safe access equipment, prefabricated pipe and in our construction/installation strategies. Our fabricated products are superbly functional, contractor tough and pleasing to the eye. Our construction/installation strategies minimize risk and reduce cost. It is our problem-solving capabilities that keep us competitive and resilient. It is our problem-solving capabilities that keep our customers loyal.
...inspired by EXPERIENCE...
As fabricators, we often build what we design. As contractors, we often install what we build. This ability to self-participate in the developmental stages – from conception to completion - enables us to provide thoughtful and innovative designs. Our inspiration is based upon our own practical experiences.
As contractors, we know first-hand the demands on equipment in rail yards, terminals and refineries. Not only do pipe and steel products need to be tough and well-crafted, but in today's demanding purchasing environment, they need to assemble safely, simply and quickly. This is our design mind set.
...focused on SUCCESS
Family Business: We approach our customers with a long-term view based upon long-term business relationships because our business view - like our family view - is long-term. We've been applying this principle since 1981.
Small Business: We like being a small, family-run business. Being small enables us to spend less time focusing on managing ourselves and more time focusing on solutions for our customers. Our commitments are personal and projects are not complete until success is achieved.
Transfer Additive Injection Skid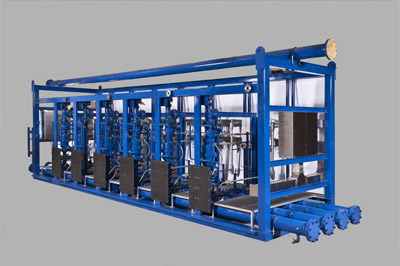 This Lane Additive Pre-Fabricated Skid is a metering, blending and top truck load out skid.