Videos
The Bullard Company Proudly Presents the MAP!
This Mobile Access Platform provides a safe and efficient means of Transloading product from railcar to railcar or railcar to truck. Check out the video to see this unit in action!
---
Bullard Company loading racks and safety bridges are shown in this OPW video . Notice how smoothly our counter balanced safety bridge and safety hoop operate when Dan goes onto the railcar and how important this function is to the integrity of the loading operation. If you look closely you can see our name on the side of our safety bridges. We are proud of our contribution to the success of NuStar's Stockton Loading Operation.
---
Bullard Company demonstrates the operation of it's counterbalanced safety bridge.
---
https://drive.google.com/file/d/0B9cSMZg3ZZrgRS1wME1wa2c3MXc/view?usp=sharing
Adhesive Blending Equipment Relocation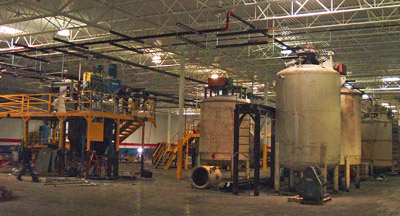 Bullard Company relocated access platforms, pipe and storage tanks from Dayton, OH to Taylor, MI.