Process Skid
Bullard Company Provides Turnkey Modular Skid Capabilities:
Design - Provide us your P&ID's and we will design a skid layout. Our designs are based upon building and installing all types of process systems for over 28 years.
In-house Fabrication and Assembly - Your skids will be fabricated by certified welders in accordance with AWS and ASME specifications. We also provide experienced millwrights for assembly and licensed electricians for power, controls and instrumentation.
Installation - We provide merit shop tradesmen for tie-ins.

Example: One photo shows a custom-designed skid for a phenol recovery process based upon our client's P&IDs. Construction of the skid consisted of mounting two (2) SS 8' diameter x 12' high tanks, all pumps, heat exchangers, instruments, piping, and skid area valves. The skid was connected to our client's process system using 304 SS pipe with Teflon envelope gaskets.
Related Projects
Photos
« Back to Products
Transfer Additive Injection Skid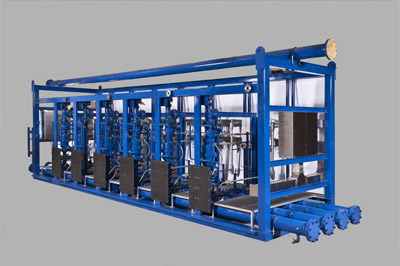 This Lane Additive Pre-Fabricated Skid is a metering, blending and top truck load out skid.