Alternate Fuels Silo Project
Date: December 31, 2010
Location: Dundee, MI
In this picturesque, turnkey project - Bullard Company poured foundations and containment, set silos, erected structural steel supports and pipe bridges, installed piping, insulation and controls. By self-performing most of the project, fabricating pre-piping and steel assembly in our fab shop and by providing more efficient pipe layouts - Bullard Company was able to reduce costs and minimize risk.

Services Used:
Mechanical Contracting (pipe fitters/welders)
Masonry Services
Electrical Contracting
Insulation
Engineering & Design Services
Testimonial
Bullard did a great job. Tradesmen were professional and motivated. Project came in on time and under budget. - DC
Products Used
Pipe Bridge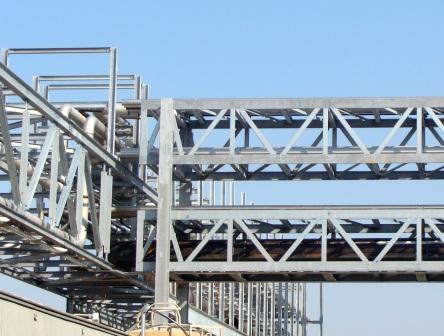 Bullard Company is adept at packaging process pipe into modular units for groups of above ground pipelines, pipe bridges, pipe trusses and pipe racks.