Fabrication
Bullard Comapny Certified Welder
Bullard Company is best described as a specialty custom fabricator with in-house design, engineering and installation capabilities. We are certified as an AWS (structural steel) and ASME (pressurized pipe) fabricator. Our specialty fabricated products are commonly used by liquid bulk handling industries such as petroleum, oil, gas, bio-fuels, energy, food, plastics, steel, chemicals, petrochemicals and pharmaceuticals. We are a custom fabricator because all of our products are one-of-a-kind solutions. Our products can be summarized as follows:
Pipe Spools - Carbon Steel or Stainless Steel - to ASME Section 9 standard.
Structural Steel - Process and auxiliary equipment platforms and supports - to AWS standard.
Modular Skids - Complete assembly (including electrical)
Modular Loading Racks with Pre-installed Pipe - Reduces cost and site construction impact.
Modular Pipelines - Pipelines Pre-assembled in racks with coatings, insulation or heat trace.
Liquid Transfer Systems - Complete loading or unloading systems for railcar and tank trucks.
Safety Equipment - Access equipment, Fall Prevention.
Some of our fabrication customers include: Archer Daniels Midland, Kinder Morgan, Martin Gas, BP, Marathon Petroleum and Durez Corporation.
---
A Thoughtful Approach to Fabricated Products
Bullard Company fabricated products are designed and built from the perspective of a contractor - simple to install, rugged and functional. Added to this, we spare no effort when it comes to the actual fabricating:
Only Use Certified Welders: First, our welders must be SMAW, GTAW and GMAW qualified, then we certify our welders to AWS specifications. To weld pipe, our welders are further certified to ASME specifications. This means that all of our welders are qualified to weld structural steel and most of our welders are able to weld pipe and structural steel. We train our welders to use only the best welding and ergonomic techniques in accordance with our safety program. Our goal each year is zero OHSA 300 recordables.
Employ a Careful Inspection Process: If your project requirements include weld testing, we can outsources independent 3rd party inspection companies to certify welds. Testing includes hardness, dye penetrate, x-ray, gamma ray and magnetic particle. We will meet all documentation requirements.
Steel Handleing assisted by
overhead crane.
Miller Wire Welding Station

New Manufacturing Facility: Opened August of 2007 and is completely under crane. Designed for efficient material handling. We have plenty of floor space for efficient assembly and high quality welding.
Provide Our Own Logistics Specialists: Delivering your products to any point in the US or Canada. We have a growing fleet of DOT certified trucks and drivers.
It is this thoughtful approach to detail - from design and fabrication to delivery and installation that enables us to provide superior products with superior service.
For more information on our individual products, please visit our the product line.
Modular Pipe Racks and Pipe Bridges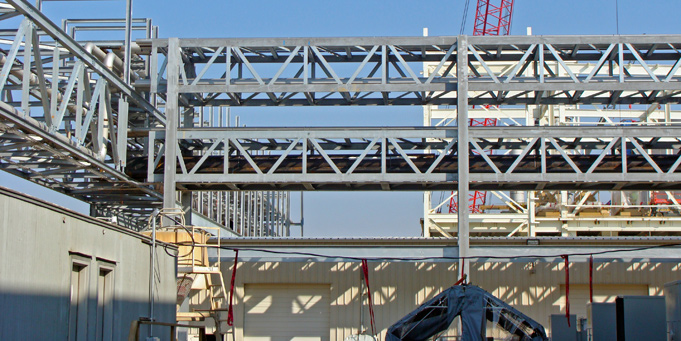 Large pipe racks support up to 27 pipelines which range in size from 2" to 36" and are built from either carbon or stainless steel.