Engineered Solutions
This is what separates us from other ASME and AWS fab shops. We provide the best possible process pipe layout because of our 30+ years of industrial contracting experience. We are aware of the unique details that must be considered. More importantly, we know how to prioritize these details in context of the overall project. Some of the many parameters we consider include:
Pipe Racks heading to the Midwest
Site Environmental and Safety Factors
Site Installation Strategies
Site Staging Considerations
Fabrication Costs
Material Costs
Site Construction Impact
Transportation Costs
Optimum Packaging
Labor Requirements
Equipment Requirements
Delivery Time
Maintenance Costs
Product Life Cycle
Our capability to develop engineered solutions is built upon: (1) expertise that goes with being professional engineers licensed in several states, (2) the ability to understand all challenges of a project, and (3) experience designing, building and installing systems for 28+ years across many industries.
Recent examples of our unique engineered solutions involve the packaging of process pipe in modular sections: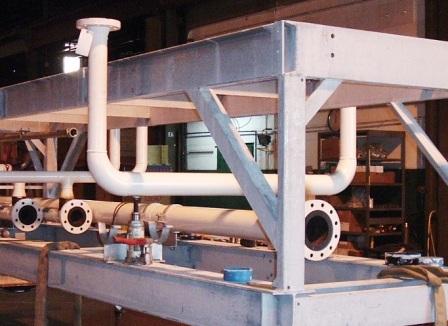 Installation of Walkway with Pipe
A major gas producer needed to expand an existing railcar loading yard with a 600' long, 20+ position railcar load rack including connecting pipe and a 180' walkway. Project criteria included: x-ray quality welding, fast delivery, minimum disruption of loading operations, safety and environmental compliance and competitive cost. We designed the foundations, loading rack and walkway with pre-installed pipe. We fabricated all major components including pipe, walkways, supports, ladders, stairs, safety bridges and handrails. Our installation crew required only 4 men working three weeks to finish the project. All project goals were met.
A major ethanol producer was constructing two ethanol facilities in the Midwest and was ready to install the connecting process pipelines. Shortages of certified pipe fitters and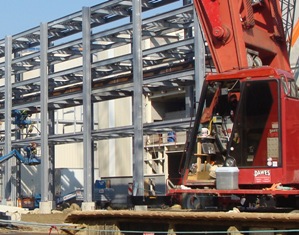 Pipe Rack Installation
welders were escalating construction costs and increasing the risk of production delays. We eliminated all field pipe fitting and minimized field welding and insulation time through our ability to design modular pipe racks and bridges with pre-installed pipe. These modular pipe racks and bridges were constructed with with the highest quality product created from a shop controlled environment and with zero footprint on an already overly congested job-site. On the installation side, the customer's contractor was able to use 5 men (with cranes) to install up to 1000' of finished pipe and supporting steel every 6 hours. Our modular pipe systems were the key to success for this $7 million project.

Bullard Company's engineered solutions are superior because we build and install what we design - and have been doing so since 1981. Our experience enables us to see the entire project before it is built. This vision reduces risk, eliminates mistakes and maximizes the value of your construction dollars. Put the vision we bring to our engineered solutions to work for you.
Adhesive Blending Equipment Relocation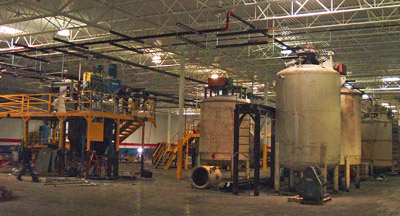 Bullard Company relocated access platforms, pipe and storage tanks from Dayton, OH to Taylor, MI.