Our History: Fabricators, Contractors and Engineers
When incorporated in 1981, Bullard Company was initially founded as Bullard Engineering. Working out of his basement, Len Bullard (owner/founder) was the company's only mechanical engineer and consultant. However, Bullard Engineering functioned primarily as a mechanical industrial contractor and not as an engineering firm. Our earnings were based upon providing materials, labor and equipment in the course of completing each project's scope-of-work. While this approach to engineering seems unorthodox, Len was able to apply his engineering and problem-solving expertise to specific installation and steel erection challenges. His ability to see the "best way" to install pipe and erect steel minimized risks and reduced cost in each project. This is how his engineering and problem-solving abilities contributed to the success of Bullard Engineering. To further substantiate his credentials, Len earned PE certifications from both the states of Ohio and Michigan – the 2 states where 95% of our customers were located.
Bullard Engineering was renamed Bullard Company in the early 1980's. As business expanded, Len hired many capable and experienced project managers, supervisors and support staff which further bolstered the company's capabilities. In addition to our mechanical contracting services, electrical and insulation construction capabilities were added. While the majority of our business remained pipe welding (ASME) and structural steel erection (AWS), we were able to self-perform turnkey projects including process equipment installations and re-locations across many industries.
Bullard Company did well as a turnkey, problem-solving industrial contractor in the 1990s with our peek year coming in 2001. However, with our location only 45 minutes from Detroit, the collapse and re-structuring of the automotive industry eventually affected our business. Many good industrial customers downsized, relocated or closed their facilities. These changes forced us to rethink our business.
In 2005, we decided to offer pipe and steel fabrication services as a means to compensate for our declining construction revenue. We designed a new facility to be located in Ottawa Lake, Michigan with expanded offices and 15,000 square feet for manufacturing. Our new business plan was to fabricate pipe spools, modular skids and work platforms in a shop environment – items that we are regularly involved with as contractors.
In late 2006, while we were constructing our new building, an opportunity arose to hire the key manager, designers and technicians of a local steel fabrication business that suddenly closed. This group, headed by Rick Vollmar, specialized in designing and building ladders, crossovers, load racks, safety bridges and access platforms - equipment designed primarily for use by liquid bulk terminals and in particular, the petroleum, gas and oil terminals. Their expertise, products and market were complementary to Bullard Company's experience and skill set. So in February 2007, this small group of talented designers and technicians joined Bullard Company, bringing with them their 22 years of experience solving safety problems for bulk storage terminals. These changes - (1) the addition of shop fabrication capabilities, (2) the addition of a line of fabricated steel products, and (3) access to a national market - are providing new opportunities to generate business through our problem-solving skills.
Almost immediately, Bullard Company's newly merged design and engineering talents yielded big results. We developed modular pipe racks, trusses and bridges with pipe pre-installed which solved a variety of problems for a major ethanol supplier and a natural gas producer. This technological advancement in Modular Pipe System Technology (MPST) increases product quality and reduces both site impact and installation costs. These designs led to 3 major contracts which kept our production staff busy from mid-2007 through most of 2009.
Another beneficiary of our combined design/engineering skills is our line of fabricated products – access platforms, loading racks and safety bridges. Our products are superbly functional, contractor tough and competitively priced. Our customers frequently comment how good our platforms and equipment look – a tribute to our designs and to our craftsmanship. We are confident that Bullard Company will continue to win over customers with our access equipment line.
Finally, we are pleased to announce that several nationally-known companies have recently hired us as project engineers. Certainly this is a result of our success in solving our customer's problems for over thirty years.
Whether it is through design, engineering, fabrication or installation, we look forward to applying our problem-solving capabilities to your company's next project!
Adhesive Blending Equipment Relocation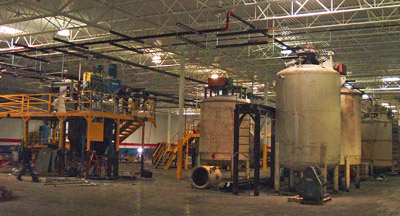 Bullard Company relocated access platforms, pipe and storage tanks from Dayton, OH to Taylor, MI.