Our Facility
We designed our Ottawa Lake, Michigan facility with 15,000 square feet for manufacturing and 2500 square feet for offices. Construction was complete in August, 2007.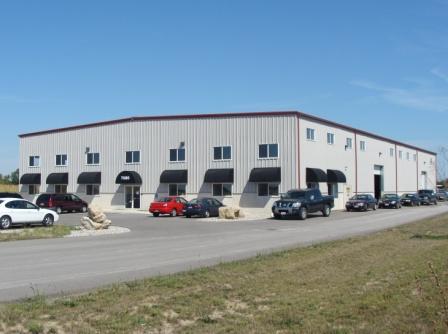 Ottawa Lake, MI facility
Within our facility we have over 20 of the latest Miller Welding machines, several iron workers and saws.
When needed, we are able to expand our manufacturing space rapidly. In 2007, we leased a building with 12,500 square feet of manufacturing space including a 25 ton overhead crane and semi-truck access. This facility was only a 10 minute drive from Ottawa Lake. Used for the fabrication of modular pipe racks and bridges for a major ethanol producer, we leased this facility for almost 2 years. With our location next to Toledo and 30 miles south of Detroit, we can easily lease or purchase facilities with rail and/or waterway access. We also have plans to build an addition and/or a new building on our existing property.
To better serve our clients and to reduce the cost of our products, we have established key partnerships with our raw material suppliers and service centers. As a value added service, we have a number of trucks that can move product to and from the job site. Our fleet includes two semi-trucks with 48' & 53' drop deck trailers, 48' flatbed trailers, a 24' stake truck and several smaller trucks and pick-ups.
Shop Equipment (2010)
(2) Bay Bridge Cranes - 3 tons each
(1) 20 ton Bay Bridge Crane at our Annex
(5) Fork Trucks - both propane & electric - largest capacity is 14,000 lbs.
(25) Wire Welders - mainly MIG, TIG
(1) Pipe Bender - 2" x Schedule 80
(2) Bevellers
Various mag drills
(1) Milling machine
(1) 50 ton iron worker
(1) 100 ton iron worker
(1) Liquid-cooled band saw
(1) 6" saw
(1) 12" saw
Many pipe threaders
Many winches - largest is 8,000 lbs
Headquarters information:
Ottawa Lake, MI fabrication shop
Bullard Company
7080 Schnipke Rd
Ottawa Lake, MI 49267
Phone: (419) 841-8775
Fax: (419) 841-8789
Email: info@bullardeng.com
Modular Pipe Racks and Pipe Bridges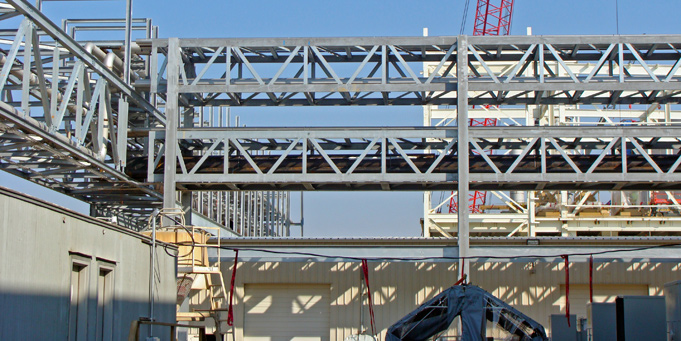 Large pipe racks support up to 27 pipelines which range in size from 2" to 36" and are built from either carbon or stainless steel.